Progressive/Green Sources of News & Information . . .
(Click on apples to visit websites.)
AlterNet. A popular source of alternative, non-corporate-biased news and editorial commentary. AlterNet is a project of the non-profit Independent Media Institute, launched in 1998, and now claims a readership of over 1.7 million visitors per month. It is especially strong on coverage of issues related to the environment, human rights, civil liberties, social justice, media, and health care.
Grist. "A beacon in the smog". Eco-friendly, "green" news, information and commentary, with a sense of humour. "With contributors scattered the world 'round, we are a nonprofit organization funded by foundation grants, reader contributions, and just a touch of advertising. Our website and email services are free -- and worth every penny...At Grist, we believe that news about green issues and sustainable living doesn't have to be predictable, demoralizing, or dull...We exist to tell the untold stories, spotlight trends before they become trendy, and engage the apathetic. We're fiercely independent in our coverage; we throw brickbats when they're needed and bestow kudos when they're warranted. And while we take our work seriously, we don't take ourselves seriously, because of the many things this planet is running out of, sanctimonious tree-huggers ain't one of them."
The Huffington Post. A popular source of daily news and commentary that combines news blogs, abundant video, and sections on politics, media, living, entertainment, technology, business, as well as a "green" section and a section on the environment.
The Nation. Founded in 1865, The Nation is the oldest continuously-published weekly magazine in the USA. Available in both print and web versions, it has a longstanding reputation for intellectually-sophisticated, well-written, progressive news and commentary on current events, the arts and social issues. Notable past contributors have included Martin Luther King, Jr., Albert Einstein, Franklin D. Roosevelt, Jean-Paul Sartre, Bertrand Russell, Langston Hughes, John Steinbeck, Frank Lloyd Wright. Franz Boas, H. L. Mencken, Gore Vidal, Hunter S. Thompson, Ralph Nader, Pat Buchanan, James Baldwin, Tom Hayden, I.F. Stone.
Truthout. A nonprofit organization delivering daily news coverage. Also features editorials and video reports on domestic and international issues. Their approach to journalism..."If I can point to one thing that defines Truthout - that makes us unique - it's that we have accepted these readers as our sole supporters. And while that interdependency may occasionally be a bit stormy, it guarantees that whatever issues arise will be worked out between our organization and the community that we serve. The corporate hand will never rule here." -Marc Ash, Executive Director
The Guardian. UK-based print/internet newspaper with daily coverage of world and UK events from a progressive perspective..
Common Dreams. "Breaking News and Views for the Progressive Community". Daily news and comprehensive links to news sources, magazines, television, radio, RSS.
The Daily Green. ("The Consumer's Guide to the Green Revolution"). A web-based daily 'green newspaper' that features news, commentary, green living tips, links. Sections include news, plus "green homes", "new green cuisine", "tips & advice", "weird weather watch", and "ecopedia" ("The green revolution has a language all its own").
NPR (National Public Radio). A high-journalistic-quality, internationally-acclaimed producer and distributor of noncommecial news, talk, and entertainment programming. As a not-for-profit news organization it offers hourly newscasts, special features and archived audio and information.
Village Voice - Press Clips. Features daily U.S. and world news and commentary, from a progressive New York arts/literature-conscious perspective.>
Guerrilla News Network (GNN). An independent news organization with headquarters in New York City and production facilities in Berkeley, California, launched in 2004 with the goal of "providing a platform for the next wave of digital media guerrillas. The new site will allow users to have a say over the editorial direction of the site. More importantly, the GNN community will get the tools to create and disseminate news themselves, through blogs, headlines, original articles, videos, photos, your own customized, personal email newsletters and collaborative, ongoing investigations that will allow GNNers to work together to cover important stories the mainstream media is missing."
TreeHugger. Describes itself as "dedicated to driving sustainability mainstream...a one-stop shop for green news, solutions, and product information...You can find all you need to go green in our up to the minute blog, weekly and daily newsletters, weekly video segments, weekly radio show and our user-generated blog." Their mission..."Our environment is currently facing huge obstacles that have the potential to seriously disrupt our future and the future of all our fellow flora and fauna friends. Keeping that in mind, TreeHugger also sympathizes with the fact that most people aren't willing to compromise their current lifestyle in order to improve our shared environment, so we have created a place where you can discover how to maintain or improve your quality of life while reducing your harmful impact on the earth."
Planet Green. Established in June 2008, Planet Green is the first 24-hour eco-lifestyle television network, with an on-line presence and community. Their on-air content offers green lifestyle programming. "By representing a broad range of ideas and perspectives, Planet Green is taking an active role in generating conversation and motivating individuals to take action when it comes to improving the environmental status of our planet... PlanetGreen.com is filled with solutions-oriented tips and information that can help you make your life a little (or a lot) greener. Our eco-minded community includes fan sites, articles about how to go green, and forums where users can interact...Planet Green is your user's guide to living mindfully on this big blue marble we all call home. Our experts will help you navigate the options for detoxifying your home, life, and planet - without the jargon or the guilt trips - so you can start being the change you wish to see in the world."
Real Clear Politics. Good source of reliable political news, minus either left or right spin, and minus inherent pro-corporate biases that typically distort reporting and result in de facto story censorship in the mainstream news conglomerates (FOX, CNN, CBS, ABC, NBC). Offers intelligent, balanced U.S. political news, opinion poll analysis and commentary. Tends to stay closer to the empirical 'facts' than most of the other news organizations, in terms of what a running average of Americam polls are actually showing/predicting at any point in time.
In These Times. Critical, candid, socially-progressive news and commentary.
Yale Environment 360. An e-publication of the Yale School of Forestry & Environmental Studies. Features opinion, analysis, reporting, debate, ecolinks.
Znet. Online service that links to thousands of alternative/progressive news and information files. Znet's subsites focus on particular topics such as Ecology and International Relations, on particular places in the world, such as Iraq and Venezuela - as well as on Debates, Interviews, Books, and Vision and Strategy, particularly Participatory Economics (or Parecon for short). Volunteers have translated ZNet articles into many languages including Spanish, Italian, Slovak, Turkish/Kurdish, German, Hindi etc. ZNet's Instructionals and ZSchool, and its blogs, forums, uploaded graphics, pictures, audio, video, and personal preference pages round out a wide selection of 'non-corporate' news and information features.
Z Magazine. Associated with ZNet, Z Magazine is a progressive print/online periodical. It addresses ecology, gender, race, culture, politics, international relations, economics, etc. "In a time of constant media manipulation, every edition of Z Magazine comes through with key information and cogent analysis. This is an essential publication for people who refuse to be spun by evasion or euphemism and who want to help strengthen movements for social justice and peace." -Norman Solomon. The name, Z, was inspired by the movie Z, directed by Costa-Gavras, that tells the story of repression and resistance in Greece under a security-obsessed political regime. Security police set out to prevent "a mildew of the mind" and infiltration of "isms." As the closing credits roll, the filmmakers list the things banned by the regime. They include: peace movements, labor unions, long hair on men, Sophocles, Tolstoy, strikes, Chekhov, Mark Twain, the bar association, sociology, Becket, the free press, the new math, and the letter Z, scrawled on a sidewalk as the film's final image, symbolizing "the spirit of resistance lives."
Resurgence (online version). ("At the heart of earth, art and spirit") Offers a selection of articles from each issue (published six times a year) as a taster for the printed version, and you can download a free issue from their website. When Resurgence started, over forty years ago, it tackled issues that were only just filtering through to the mainstream debate. Articles were published on the endangered environment, renewable energy, ecological economics etc. E. F. Schumacher wrote regularly about the perils of chemicals in our food, the simplicity of Buddhist economics, and the strength of 'Small is Beautiful'. Resurgence continues to publish articles on the cutting edge of current thinking, promoting creativity, ecology, spirituality and frugality. Their philosophy... "While the corporate world advocates 'free trade', Resurgence questions trade without responsibility and money without morality. While our governments define the 'national interest' and their politicians pursue power at all costs, Resurgence argues for politics with principles. While technology invades our lives in the name of speed and efficiency, Resurgence advocates science with a soul. But Resurgence not only offers a critique of the old paradigm it gives working models for an emerging new paradigm. Resurgence is packed full of positive ideas about the theory and practice of good living: permaculture, community supported agriculture, local economics, ecological building, sacred architecture, art in the environment, small schools and deep ecology."
The New Verse News. Progressive-alternative information, commentary, poetry on current events and topical issues, with frequent updates. Contains a variety of useful resource sections of "blog links", "write/writer links", "left links", "public service links", "directories", "services", 'back pages'(the full NVN archives), and even "arcade links"('guerrilla media' videos, games, and political advertisements wth anti-status-quo, progressive, green themes).
Submedia. [Website advisory: impolite language, expletives.] Originates in the midwest (USA). 'Guerrilla media' news and commentary on current socio-political events, from an anarchist perspective.
Netroots Nation. "Amplifies progressive voices by providing an online and in-person 'campus' for exchanging ideas and learning how to be more effective in using technology to influence the public debate. Within that campus, we strengthen community, inspire action and serve as an incubator for progressive ideas that challenge the status quo and ultimately affect change in the public sphere."
Environmental Health News. Published daily by Environmental Health Sciences, a not-for-profit organization founded in 2002 to help increase public understanding of emerging scientific links between environmental exposures and human health. Features news, editorials, archived science reports.
'Green Dove' Network & Peace Magazine. Published periodically on the web and in a print edition whenever funds allow, Green Dove Peace Magazine is a news and information publication offering peace, environmental, and community news from local and world sources, and a calendar of peace-related local events for Bloomington and Indiana. The e-zine is published by the Green Dove Network, and features articles, reviews, poetry, art, current events and resources. The 'Green Dove Network', based in Bloomington, Indiana, is a cooperative non-profit organization "dedicated to being a presence for peace...a peace activist web network, presenting alternative news and information connecting individuals, groups, culture, alternative issues, nuclear resources, society topics and activist resources, information about peace work, education, essays, news, community food and currency links, books, education, green purchasing, sustainable living resources, art and poetry galleries, and is currently home to Local Food."
The Environment Directory. A powerful environmental-topics web search engine that spans a wide range of topics and subtopics from 'Agriculture' to 'Wildlife'.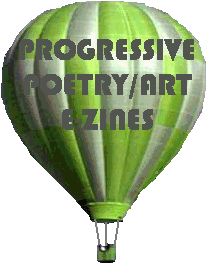 Progressive & Avant Garde Literature-Art E-zines . . .
(Click on apples to visit websites.)
Aesthetica. Published bi-monthly, Aesthetica Magazine is the only British arts magazine to simultaneously cover literature, visual arts, music, film and theatre. Their approach to art is holistic and integrative. "We believe that the arts are interdisciplinary with many artists blurring the lines between genres and crossing boundaries in their work...We acknowledge the amalgamation of different art forms into one cultural whole. Aesthetica establishes links between literature, visual arts, music, film and theatre. It acknowledges the influences and effects that different genres have upon one another, e.g. a songwriter seeking inspiration from a photograph, a painter affected by a concert, or a poet provoked by a play." Aesthetica's environmental policy... "At Aesthetica we really care about the environment. In our office we recycle and reuse our paper, envelopes, ink cartridges and office supplies. Aesthetica is printed on paper from mills that get their wood from managed forests, and are recognized for reducing or eliminating chlorine bleaching methods. The ink used is a vegetable based ink, which reduces chemical wastage. We encourage you to recycle Aesthetica Magazine when you're finished reading it or pass it on to a friend."
Anti- . Despite the name, Anti- is not aesthetically affiliated with Parra's school of antipoetry. It describes itself as a "contrarian, devil's advocate that primarily stands against the confinement of poetry in too-small boxes. Anti- wants to provide a single arena for a wide range of styles and ideas, so these different kinds of poets and poems can either fight it out or learn to coexist. We want to be a venue where voices from the margin can be heard next to more established ones. We're also interested in work that blurs boundaries: between verse and prose, traditional and cutting edge, metrical and free, humorous and scary, narrative and lyric and linguistically fragmented."
Avant Garde Times. Newest zine from "Above Ground Testing". The purpose of Avant Garde Times is "to provide a forum for work which is of an alternative nature."
beinArt (website, e-gallery). The beinArt International Surreal Art Collective was founded in 2006 by Jon Beinart. The art collective was formed to increase public awareness and appreciation of contemporary Surreal, Fantastic and Visionary Art, and to display the work of internationally-renowned artists, as well as the work of lesser known, though extraordinary, artists.
Cafe Irreal. A quarterly webzine that features Irrealist literature, "a kind of fantastic fiction infrequently published in English. This fiction, which we would describe as irreal, resembles the work of writers such as Franz Kafka, Kobo Abe, Luisa Valenzuela and Jorge Luis Borges."
Centrifugal Eye. Excellent online journal of contemporary poetry, essays, reviews.
Del Sol Review. Literary magazine featuring poetry and fiction of consistently high quality, and reflecting a variety of artistic genres.
Guernica. A magazine of art and politics "that launched its first issue in 2004, about a week before the U.S. presidential election, and also marking the day Pablo Picasso was born over a century before. Why name the e-zine 'Guernica'? There's Picasso's famous painting, invoking a brutal and unnecessary massacre in a historic Basque city during the Spanish Civil War. But the magazine also grew out of a poetry and fiction reading series that took place at a bar called 'Guernica' in lower Manhattan. The magazine was formed "to put pressure on the political and aesthetic assumptions that, we thought, weren't being challenged...We had also been toying with ways to bring an artistic sensibility -- marked by creative problem solving and intuitive thinking -- to political and social issues." In addition to its fiction, poetry, and blog features, Guernica's interviews have presented conversations with heads of state, cabinet members, legislators, along with Nobel and Pulitzer Prize winning authors and thinkers, human rights watchdogs, newsmakers, newsmen and women, environmentalists, war and peace makers, playwrights, and filmmakers.
"Guest Gallery". Online exhibit, contains many e-pages filled with neo-surrealist visual art from around the globe - mostly paintings and drawings.
Her Circle Ezine. ("Exploring the feminine experience in the world community") Features visual art, poetry, literature, art, interviews. "From the earliest times women have used art as a means of celebrating life, ritual, and their feminine role in society...Artists and writers featured in Her Circle use their work as a means of addressing identity, gender, ethnicity, politics, and statutes that surround and shape women's lives, challenging us to reevaluate and re-imagine the world in which we live."
Lunarosity. In operation since 2001, the name of this literature/art journal derives from the desire "to provide work that represents a generosity and luminosity of spirit. Also, many writers work all day, and must compose at night when the moon, not the sun, inspires."
Moondance. ("Celebrating creative women") Published by the Women Artists and Writers International, Moondance features fiction, poetry, review sections, and sundry feminist and women's inspirational content.
The New Verse News. Features progressive-slternative poetry on current events and topical issues, with frequent updates. Also contains a variety of useful resource sections of "blog links", "write/writer links", "left links", "public service links", "directories", "services", 'back pages'(the full NVN archives), and even "arcade links"('guerrilla media' videos, games, and political advertisements wth anti-status-quo, progressive, green themes).
Poets Against War. "Continues the tradition of socially-engaged poetry, by creating venues for poetry as a voice against war, tyranny and oppression." Poets Against War was born in 2003 as poets across the United States made the decision to stand together to speak publicly against the Iraq War.

"In late January 2003, in response to an invitation to a symposium by Laura Bush to celebrate 'Poetry and the American Voice,' Sam Hamill declined; a longtime pacifist, he could not in good faith visit the White House following the recent news of George W. Bush's plan for a unilateral 'Shock and Awe' attack on Iraq. Instead, he asked about 50 fellow poets to 'reconstitute a Poets Against the War movement like the one organized to speak out against the war in Vietnam...to speak up for the conscience of our country and lend your names to our petition against this war', by submitting poems of protest that he would send to the White House. When 1,500 poets responded within four days, the Poets Against War web site was created as a means of handling the enormous, unexpected response."

Among those who contributed original compositions to the collection of anti-war poems were such notables as Lawrence Ferlingetti. Since 2003, the "accidental groundswell" has grown to include poets from around the globe and a permanent website. There are now over 20,000 poems in the online archive, the largest poetry anthology ever published.
The Potomac.A Washington-based journal of poetry and politics, whose editorial policy is essentially apolitical, attempting to go beyond simple left-right distinctions: "We don't believe in dichotomizing issues into left or right. We are more in favor of right or wrong. For example, we know the tax-and-spend system of government is incredibly corrupt (but that doesn't make us conservatives), and we realize campaign finance reform on all levels is necessary to restore true democracy (but that doesn't make us liberals)." The e-zine typically features short essays, poems, book and art reviews.
Quiet Mountain Essays (QME).An online journal of feminist writing presented in essays-only format, featuring essays written by women, and occasional book reviews and news reports.
Raving Dove. An online nonpartisan, nonsectarian literary journal "dedicated to sharing thought-provoking writing, photography and art, that opposes the use of violence as conflict resolution, and embraces the intrinsic themes of peace and human rights." It features poetry, nonfiction essays, fiction, photography, and art "with universal anti-war, anti-violence, peace-related, and human rights themes."
Sage of Consciousness. An international online e-zine "that is not afraid to delve into alternate genres of writing and artistic expression", and that is interested in "many different types of literature, art, and the new media expressions that have been emerging over the past few years...This magazine is about expression, about being new, fresh, and alive with talent. We want to leave a mark behind us all, saying that we were not afraid to let our artists and writers be who they were." Among the issue topics are such enlightened themes as "Spirituality: Reflections, Knowledge and Growth," "Awareness: Injustices and Fallacies," "Soul Foraging: Searching for the Self", and "Mysticism: The Tangible and the Unseen."
Sinister Wisdom. A multicultural lesbian literary & art journal, Sinister Wisdom is the oldest surviving lesbian literary journal, seeking to provide "...a multicultural, multi-class, female-born lesbian space. We seek to open, consider and advance the exploration of community issues. We recognize the power of language to reflect our diverse experiences and to enhance our ability to develop critical judgment as lesbians evaluating our community and our world."
Wicked Alice. A women-centered poetry journal "dedicated to publishing quality work, by both sexes, depicting and exploring the female experience."

Alternative Living, Eco-Villages & Intentional Communities . . .
(Click on apples to visit websites.)
Eartheasy. A sustainable-living website that offers information, activities and ideas to help people discover how to live more simply, efficiently and with less impact on the environment. Eartheasy serves up green news & information, lifestyle tips, links to eco-friendly products, organic clothing, gardening, vegetarian cuisine, eco-friendly gifts, etc. Eartheasy's perspective is holistic, family-oriented, and practical..."With every activity of our daily lives, we connect with the interdependent web of life on Earth. The health of our environment is a reflection of the choices we make...The lifestyle enjoyed in the world's industrialized countries comes at an unsustainable cost to the environment. In the wake of development and prosperity we see acid rain, greenhouse gases, global warming, toxic waste, water and air pollution, and a global dependence on chemical fertilizers and pesticides. As today's patterns of growth and consumption continue to deplete the environment, our future welfare is at risk. Families and individuals play a large part, through lifestyle and consumer choices, in determining the state of our environment. We must break away from the widespread belief that bigger, faster, newer and more is always better. We need to reconsider what constitutes 'wealth'. We need to balance our personal well-being with the health of the environment."
Fellowship for Intentional Community. Although there are thousands of 'intentional communities' in existence today, most people in mainstream society, and the mass media, remain unaware of them or their roots in 'alternative lifestyles'. As of July 2008, for example, the FIC's "online communities directory" listed 107 intentional communities in the U.K., 161 in continental Europe, 1483 in the U.S., 103 in Canada, and 59 in Australia. There are also intentional communities in Central and South America, Africa, Asia, and the Caribbean.

The FIC exists to increase public awareness of existing and newly forming intentional communities, offering information and referrals for those who are actively seeking, or simply curious about, alternate lifestyles for themselves and their families. They provide publications, referrals, and support services for a wide range of ecovillages, egalitarian communities, cohousing groups, community networks, support organizations, and people seeking a home in community.
The Federation of Egalitarian Communities. "A new way of living is not only possible, it is happening now!" FEC is a network of egalitarian communities, spread across North America, which have joined together in their common struggle to create a lifestyle based on equality, cooperation, and harmony with the earth. FEC communities range in size and emphasis from small agricultural homesteads to village-like communities to urban group houses. Each of the FEC communities: (1) Holds its land, labor, income and other resources in common.(2) Assumes responsibility for the needs of its members, receiving the products of their labor and distributing them and all other goods equally, or according to need. (3) Practices non-violence. (4) Uses a form of decision making in which members have an equal opportunity to participate, either through consensus, direct vote, or right of appeal or overrule. (5) Actively works to establish the equality of all people and does not permit discrimination on the basis of race, class, creed, ethnic origin, age, sex, sexual orientation, or gender identity. (6) Acts to conserve natural resources for present and future generations while striving to continually improve ecological awareness and practice. (7) Creates processes for group communication and participation and provides an environment which supports people's development.
The Online Communities Directory The Online Communities Directory is part of the Intentional Communities website, a project of the Fellowship for Intentional Community (FIC). The FIC started publishing a community directory in 1992. The first edition had 350 listings. Today the FIC's online directory has over 2000 entries, with 10 to 20 new ones typically added each month. If you are looking for an intentional community, ecovillage, cohousing, commune, co-op, or other cooperative living arrangement, you can browse through their community lists (alphabetic, geographic, or by type of community), look at their maps, or search their database. Intentional Communities can update their listings online, so you get the most up-to-date information possible.

You can filter your search on many key characteristics of each community such as location, size, etc.(To obtain more information about any listed community, contact that community directly using the contact information they have provided.) You can use their search page to do a more detailed search by type of community. Their categories are: (1) Ecovillages - Displays communities with the words 'ecovillage' or 'eco-village' in their listing. Ecovillages are generally communities with a strong ecological focus. (2) Cohousing - Displays communities with the words 'cohousing' or 'co-housing' in their listing which also indicated that they use the cohousing model. Cohousing communities generally incorporate both private homes and shared common facilities and support neighborly connections. (3) Communes - Displays communities which indicated that they are 100% income sharing. (4) Co-ops - Displays communities with the words 'co-op' or 'coop' in their listing. Co-ops are cooperative, generally expense sharing, often urban, shared housing communities. Many of those listed are focused on college students. (5) Christian Communities - Displays communities with the words 'Christian' in their listing.
Communities Magazine. "Offers fascinating insights into the joys and challenges of communities - society's R & D centers - by their foremost pioneers." -Corinne McLaughlin, co-author of Builders of the Dawn. Since 1972, Communities Magazine has been the primary resource for information, issues, and ideas about intentional communities in North America - from urban co-ops to cohousing groups to ecovillages to rural communes. The 80-page quarterly is focusing increasingly on cohousing communities and aspiring ecovillages, as those are two of the fastest-growing kinds of communities in North America today. Articles and columns cover practical "how-to" issues of community living as well as personal stories about forming new communities, decision-making, conflict resolution, raising children in community, sustainability, and much more.
The Daily Green. ("The Consumer's Guide to the Green Revolution"). A web-based daily 'green newspaper' that features news, commentary, green living tips, links. Sections include news, plus "green homes", "new green cuisine", "tips & advice", "weird weather watch", and "ecopedia" ("The green revolution has a language all its own").
WorldChanging. A "solutions-based" e-zine about green living, that works from a simple premise: "that the tools, models and ideas for building a better future lie all around us. That plenty of people are working on tools for change, but the fields in which they work remain unconnected...That another world is not just possible, it's here. We only need to put the pieces together. Informed by that premise, we do our best to bring you the most important and innovative new tools, models and ideas for building a bright green future." Useful Sections include: Community ("working together for the common good"), Planet ("restoring & exploring the earth--climate change, sustainable development, biodiversity & ecosystems, new science, imagining the future"), Shelter ("building future-friendly homes"), Cities ("urban design, transportation, megacities, leapfrogging"), Stuff ("the things we make, buy, use and live with"), and Business ("transforming business, socially-responsible investment, green economy")
The Green online. Presented by actor Robert Redford and hosted by journalist Simran Sethi, The Green is television's first regularly-scheduled program destination devoted entirely to environmental issues. The Green online presents multimedia content with an emphasis on "the trend towards environmentally sustainable approaches to modern living." Includes eco-videos, blogs, living tips, useful links.
Global Ecovillage Network. Articles and news on eco-villages, with resource and educational links.
Twin Oaks Community. ("100 people sharing our lives") An income-sharing community of approximately 100 people living on 450 acres of farm and forestland near Louisa, Virginia. Founded in 1967, their intentional lifestyle reflects values of "egalitarianism, ecology, and nonviolence." The community is entirely economically-independent and self-sufficient, with members working in community-based businesses producing hammocks and chairs, indexing books and making tofu. Other typical member activities include organic gardening, equipment and building maintenance, office work, and milking the community's cows. In return for a member's labor the community provides all basic needs including food, housing, clothing, medical care etc. Social life revolves around basic values of tolerance of diversity, sharing of resources, and sustainable living: "We share our vehicles, we build our own buildings, and we share houses of 10-20 people. Some of us work actively for peace and justice, ecology, and feminism." Information about visiting/joining T.O. is available on their website.
East Wind Community. ("An Egalitarian Communitarian Cooperative") A 75-member rural intentional community located near Tecumseh, Missouri on 1,045 acres of Ozark Hills, organized around values of "cooperation, nonviolence, and sharing." They support themselves through several thriving community businesses: "East Wind Nut Butters," "Slackjaw Percussion," and "Utopian Rope Sandals." The membership is diverse, and decisonmaking democratic. Joint activities include community meals, music jams, and watching Ozark sunsets. Information about visiting/joining E.W. is available on their website.
Toyosato (A Yamagishi Village). The largest community of the wider Yamagishi movement, with approximately 500 adults and 200 children, Toyosato village (Mie Prefecture, Japan) practices sustainable farming. A major objective of the of the Yamagishi movement is the development of "friendly and joyful village[s] where no one needs money." Yamagishi has launched more than 30 such villages in Japan since 1960.
Crystal Waters Permaculture Village. Founded in 1987, this permaculture village in Conondale, Queensland, Australia is home to about 240 residents who are dedicated to permaculture, self-sustaining agriculture, and reforesting the land.
Findhorn Foundation and Community (Scotland). Founded in 1962, this intentional community is presently at about 320 members, who share a common interest in nature-based spirituality. Findhorn describes itself as "an experiment in conscious living, an education center and an ecovillage."
The Farm. Originally established in 1971, and now consisting of about 180 people living on 1,750 acres near Summertown, Tennessee, The Farm practices "low-consumption, high-fulfillment lifestyles within a caring, socially active community."
ZEGG. ("The future will not be shaped by political parties and governments, but by people.") Now 18 years old and housing 80 members, ZEGG community, located in Belzig, Germany, is devoted to "exploring the foundations for a nonviolent way of living." ZEGG's alternative-lifestyles philosophy..."Our Planet's current situation has been determined by the interests of corporate globalisation. This type of globalisation won't solve humanity's problems. Instead, it will intensify them: a profusion of gruesome wars, increasing depletion of the planet's resources and destruction of the environment caused by our consumption, the continued absence of concepts for sustainable economics and employment, and the destruction of biological, ethnic, religious and cultural diversity. Resistance to this sort of politics is needed, and it is also necessary to build up the alternatives: lifestyle models which are not consumption-oriented and which work on conflict-resolution strategies leading to understanding and reconciliation. Communities are important sources of impetus and inspiration in our society: they show that sustainability doesn't mean abstinence - it actually leads to a higher quality of life."
Arcosanti. This ecovillage prototype, in Cordes Lakes, Arizona, is the brainchild of sustainable-design pioneer Paolo Soleri, who originally launched the project back in 1970. Presently home to about 45 residents, Arcosanti embodies Soleri's ideas of dense, energy-efficient, pedestrian-friendly living environments, which over several decades have proved influential in inspiring the design of ecovillages worldwide.
EcoWorld. ("Nature and Technology in Harmony.") An internet publishing company featuring the web site www.EcoWorld.com, with a focus on nature and clean technology. The site features earth-friendly products and services and seeks an eco-conscious audience of consumers and green business people who are encouraged to consider the site as a convenient venue for online advertising messages. The www.EcoWorld.co site offers news updates, articles, information and links to a variety of resources.

Organizations & Groups Promoting Progressive Change . . .
(Click on apples to visit websites.)
We Can Solve It. The 'We Can Solve It' campaign is a network of people from all walks of life who believe we must act now to address the climate crisis..."Our ultimate aim is to halt global warming. Specifically we are educating people in the US and around the world that the climate crisis is both urgent and solvable...What's missing? The political will and leadership to solve the climate crisis...We must reach a tipping point in order to get leaders to recognize the need for bold change. Our goal is to be several million strong for solutions by the end of 2008."
The Alliance for Climate Protection. Based in the USA, and presently under the direction of founder/chairman Al Gore, the ACP seeks to "persuade people of the importance, urgency and feasibility of adopting and implementing effective and comprehensive solutions for the climate crisis". The ACP is also a member of Save Our Selves, organizers of the 2007 Live Earth concerts. Recent surveys have indicated that while 77% of Americans believe there is solid evidence the Earth is warming, only 47% understand its link with human activity. Better explaining this link to Americans, and motivating people to take direct action on it, are the organization's central challenges. After receiving the 2007 Nobel Peace Prize, Al Gore pledged to donate 100% of his share of the prize (approximately $1.5 million) to the Alliance. Paramount Classics, distributor of Gore's documentary An Inconvenient Truth is donating 5% of the film's box office receipts to the Alliance, and Gore is donating all his proceeds from the film to help fund the Alliance. Profits from Live Earth concerts, and profits from the associated book The Live Earth Global Warming Survival Handbook are also being used to fund the alliance, along with contributions from private donors.
Alliance to End Hunger. Engages diverse institutions in building the public and political will to end hunger. Their goal is to build "political commitment among our leaders; and global connections among groups working to end hunger worldwide." AEH has more than 60 members -- including non-profit groups, universities, corporations, individuals, and Muslim, Jewish and Christian religious groups. "We elevate hunger on the national agenda by studying how voters think about hunger, sharing our findings with political leaders, and encouraging champions for hungry people among our elected officials."
Greenpeace. A non-profit, independent global campaigning organisation, with a presence in in 40 countries, that acts to change attitudes and behaviour, to protect and conserve the environment, and to promote peace. Greenpeace has been campaigning against environmental degradation since 1971 when a small boat of volunteers and journalists sailed into Amchitka, an area north of Alaska where the US Government was conducting underground nuclear tests. This tradition of 'bearing witness' in a non-violent manner continues today, and Greenpeace ships are an important part of all their campaign work. In order to maintain its independence, Greenpeace does not accept donations from governments or corporations, financing its activities from individual contributions and foundation grants. Its objectives are to protect/conserve Earth's environment by:
- Catalysing an energy revolution to address the number one threat facing the planet: climate change.
- Defending the oceans by challenging wasteful and destructive fishing, and creating a global network of marine reserves.
- Protecting the world's ancient forests and the animals, plants and people that depend on them.
- Working for disarmament and peace by tackling the causes of conflict, and calling for the elimination of ALL nuclear weapons.
- Creating a toxic-free future with safer alternatives to the hazardous chemicals in today's products and manufacturing.
- Campaigning for sustainable agriculture, by rejecting genetically-engineered organisms, protecting biodiversity, and encouraging socially-responsible farming practices.

United for Peace & Justice. A nonviolent international "movement-building coalition" of many groups worldwide, whose aim is to "turn the tide, to overwhelm war with peace, and oppression with justice. We hold that sovereign nations have the right to determine their own future, free from the threat of 'pre-emptive attacks' and 'regime change,' military occupation, and outside control of their economic resources. We call for new foreign and domestic policies based on the peaceful resolution of disputes amongst states; respect for national sovereignty, international law, and the Universal Declaration of Human Rights; the defense and extension of basic democratic freedoms to all; social and economic justice; and the use of public spending to meet human and environmental needs."
Ecojustice. Previously known as the Sierra Legal Defence Fund, Ecojustice goes to court to defend the right of Canadians to a healthy environment. They are Canada's largest and foremost non-profit environmental law organization, enabling citizens to expose lawbreakers and hold governments accountable, setting precedents for clean water, natural spaces, healthy communities, and global warming solutions.
Adbusters Media Foundation Variously known as "Adbusters", or "the Media Foundation" or "Culture Jammers Network" they are a not-for-profit, anti-consumerist organization founded in 1989 by Kalle Lasn and Bill Schmalz in Vancouver, British Columbia, Canada. They describe themselves as "a global network of artists, activists, writers, pranksters, students, educators and entrepreneurs who...are working to change the way information flows and meaning is produced in our society...a global network of people concerned about the erosion of our physical, cultural and mental environments by commercial forces." They have launched a number of international social marketing campaigns, including "Buy Nothing Day", and "TV Turnoff Week", and are known for their guerrilla-media style "subvertisements" that spoof corporate advertisements. They are affiliated globally with sister organizations such as Résistance à l'Aggression Publicitaire and Casseurs de Pub in France, Adbusters Norge in Norway, Adbusters Sverige in Sweden and Culture Jammers in Japan. They also publish the reader-supported magazine, Adbusters ("the Journal of the Mental Environment").
Baring Witness. [Website advisory: contains nudity.] Baring Witness is a global partnership of men and women who create words of peace with their bodies. They maintain the website BaringWitness.org and promote non-violent community-based action by educating the public through media, web, print and film venues. From the BW mission statement..."From Nigeria to Nepal to the United States, women are impatient with the endless cycle of violence and war between people, between nations, between human beings and the earth itself...It is no accident that women would choose to get naked for the sake of peace and justice. For Baring Witness is about using the greatest weapon women have, the power of the feminine, the power of our beauty and nakedness to awaken our male leaders and stop them in their tracks. In this way Baring Witness is about heightening the awareness of human vulnerability. By risking with our nakedness - our charm and beauty and vulnerability - in service of peace we are exposing the flesh all humans share. We are casting off the old dominant paradigm of aggression and restoring the power of the feminine to its rightful place as the protector of life. It is time for women to deter the men in their lives from violent acts, as nurturers, as guardians of our families and as voices of reason. War seems to be a masculine invention. For thousands of years men have been conditioned to respond to threat and confrontation with violence first. Whereas the feminine way is to resolve difficulty and conflict through dialogue and negotiation, through compromise and kindness, not acts of violence...The Baring Witness actions have the potential to make a long-term difference in the way we relate to each other, women to men, nation to nation and to the rest of life - the Earth and all its creatures. By restoring the feminine principles of beauty, kindness and nurturing we are bringing the world back into balance. Truly, life depends upon it...It is woman's role to give life, to nurture and protect their men and their children. When men are at war, either between themselves or with Nature, they are unhealthy, unhappy and in danger. That is the time for women to step in. That is when it is time to shock men, stop them in their tracks, turn them into embarrassed schoolboys, remind them of how they all came into this world and make them listen to words of consolation, healing and peace."
Codepink. "A women-initiated grassroots peace and social justice movement working to end the war in Iraq, stop new wars, and redirect our resources into healthcare, education and other life-affirming activities. Codepink rejects the Bush administration's fear-based politics that justify violence, and instead calls for policies based on compassion, kindness and a commitment to international law and non-violence. Codepink emerged out of a desperate desire by a group of American women to stop the Bush administration from invading Iraq. The name plays on the Bush Administration's color-coded homeland security alerts - yellow, orange, red, that signal terrorist threats. While Bush's color-coded alerts are based on fear, and are used to justify violence, the Codepink alert is a feisty call for women, and men, to 'wage peace.'"
World Wildlife Fund (known outside North America as"World Wide Fund For Nature"). Founded in 1961, the WWF's activities have increasingly revolved around conserving Earth's environment as a whole (reflecting the interdependence of all living things), rather than focusing on selected species in isolation. WWF's priorities include climate change, forests, preserving species, freshwater, marine life, sustainability, toxics.
Animal Alliance Environment Voters Party of Canada. The AAEV party was formed because "for the most part, politicians decide the quality of Canada's environment and whether or not animals will be treated humanely. In democracies, where a politician's career depends on being elected, policy decisions are not based primarily on what is right, but on what will win votes at the local, constituency level, no matter how environmentally destructive. The political reality is that the Canadian government's environmental and animal protection policies will never improve until environmentalists reward politicians who protect the environment and animals and punish those who don't. We can only do that in elections."
Green Cross International. The aim of Green Cross is "to help ensure a just, sustainable and secure future for all by fostering a value shift and cultivating a new sense of global interdependence and shared responsibility in humanity's relationship with nature. From advocacy programmes at national and international levels to training individuals on how to construct rainwater-harvesting systems, Green Cross provides comprehensive programmes that further the values of cooperation among all stakeholders. The human relationship with nature crosses all boundaries and transcends all ideas of class, which necessitates a solution that goes beyond good governance and good policy, and hinges on the shared responsibility for a sustainable and just future for all."
Global Ecovillage Network. Articles, news, with resource and educational links.
beinArt International Surreal Art Collective. The beinArt International Surreal Art Collective was founded in 2006 by Jon Beinart. The art collective was formed to increase public awareness and appreciation of contemporary Surreal, Fantastic and Visionary Art, and to display the work of internationally-renowned artists, as well as the work of lesser known, though extraordinary, artists.
Netroots Nation. "Amplifies progressive voices by providing an online and in-person 'campus' for exchanging ideas and learning how to be more effective in using technology to influence the public debate. Within that campus, we strengthen community, inspire action and serve as an incubator for progressive ideas that challenge the status quo and ultimately affect change in the public sphere."
Green Dove Network. The 'Green Dove Network' is a cooperative non-profit organization, based in Bloomington, Inidana, which is "dedicated to being a presence for peace...a peace activist web network, presenting alternative news and information connecting individuals, groups, culture, alternative issues, nuclear resources, society topics and activist resources, information about peace work, education, essays, news, community food and currency links, books, education, green purchasing, sustainable living resources, art and poetry galleries, and is currently home to Local Food."